A new study has identified that the perception of a food establishment's cleanliness and its' employees is just as important as the practice of sound food safety principles.  Research has also shown that customers will not return to a restaurant if their mere perception is that the food is unsafe.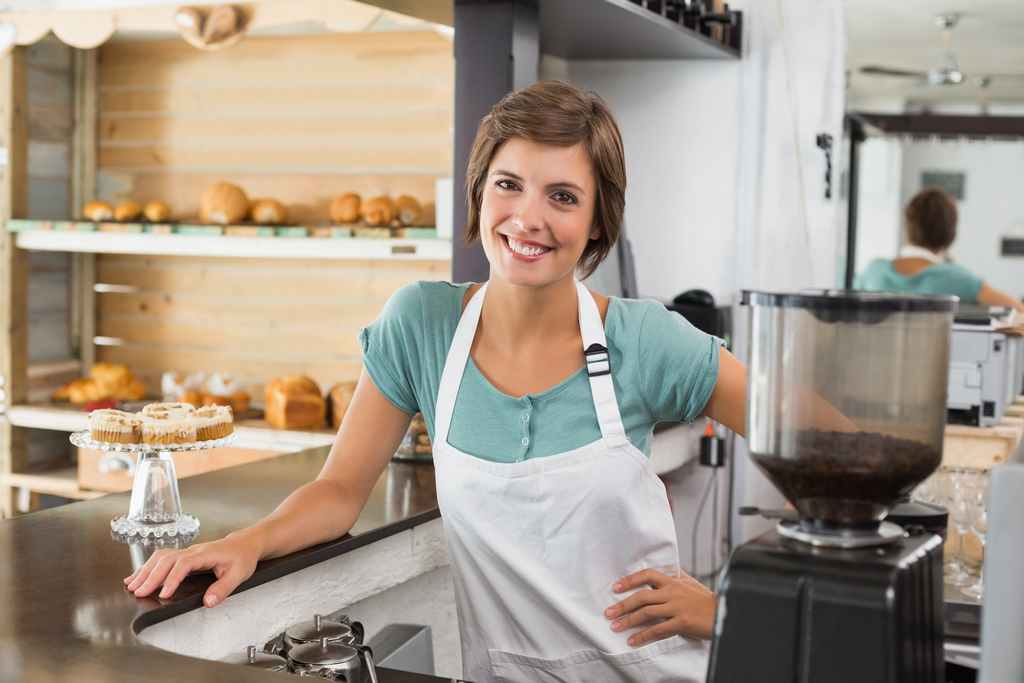 Image Source: Shutterstock
According to the Centers for Disease Control and Prevention (CDC), foodborne diseases are responsible for about 48 million illnesses and 3,000 deaths in the U.S. each year and about 60% of these illnesses are associated with restaurants.
In a new study from the University of Missouri, researchers have also found that the cleanliness of restaurant employees is vital to customer perceptions of food safety and is equally as important as a clean environment and hygienic food preparation.

Food Safety Training - SALE 10% OFF
Learn about foodborne pathogens, cross contamination, cold and hot food safety, and best practices to prevent foodborne illness.
Food Manager ANSI Certification: $99.00 - Valid in all States
Food Handler Training: Only $7.00!
10% OFF: Enter Promo Code "train10off" at Checkout
The study demonstrated that three categories of cleanliness were equally important for customer satisfaction:
The appearance and behavior of employees;
Food temperature and freshness; and
The appearance of the dining room and other visual aspects of the restaurant.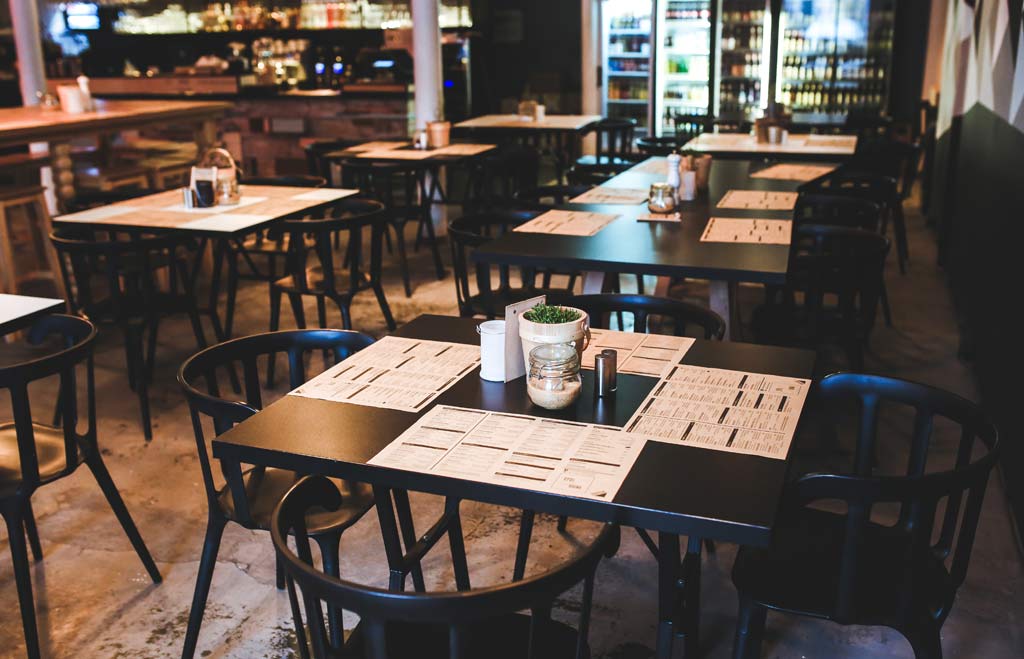 Image Source: Shutterstock
Since the appearance of employees has a lot to do with how people perceive their food, it is important for restaurants—and employees—to remember that utensils are not the only things that need to be clean.

Food Safety Training is Essential to Public Health
Food safety training not only affects the sales and continued patronage of an establishment, but also public safety.
All employees, not just cooks, should be trained on the proper food safety principles and procedures: hosts, servers, managers, food handlers and more. Clear, thorough training procedures for new and existing restaurant employees will eliminate any question regarding  food safety.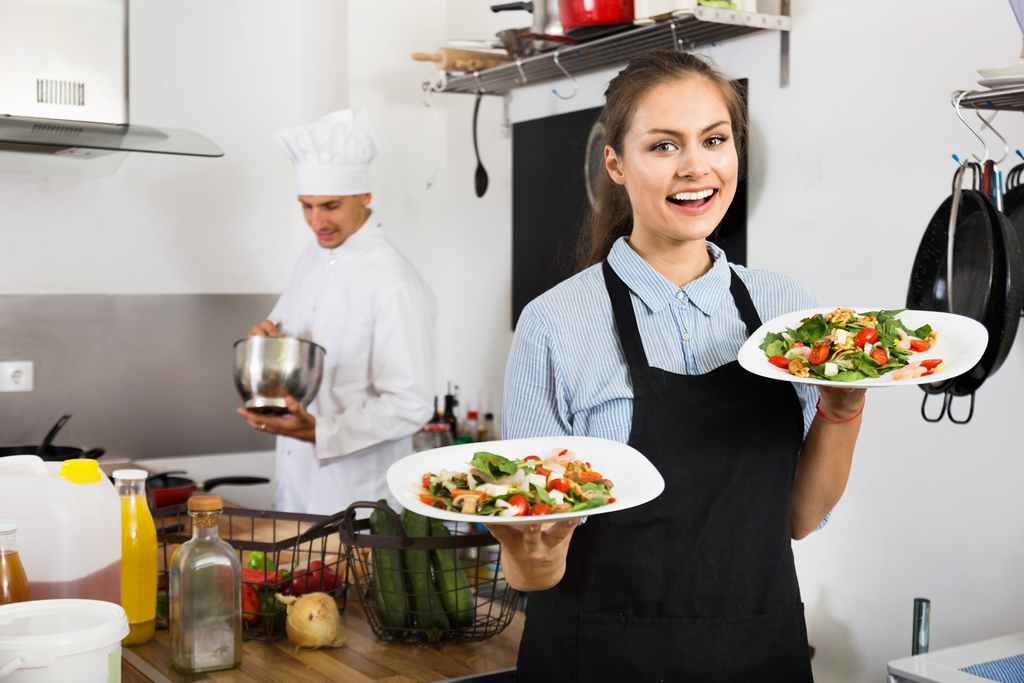 Image Source: Shutterstock
Food Safety Observations and Scrutiny for Dining Out
Follow some basic food safety observations for dining out:
Check Inspection Scores
Many state health departments make restaurant health inspection scores available on the web. Check the score before going to the restaurant  or check when you get there.
Make Sure the Restaurant Is Clean
Confirm that restaurant tables, floors, and utensils are clean. If not, you may want to take your business elsewhere.
Check That Your Food Is Cooked Thoroughly
Meat, fish, poultry, and eggs should be cooked thoroughly to kill germs. If food is served undercooked or raw, send it back.
Properly Handle Your Leftovers
Taking your food to go? Remember to refrigerate within 2 hours of eating out. If food is left in a hot car or temperatures above 90ºF, refrigerate it  within 1 hour. Eat leftovers within 3 to 4 days.
CDC Infographic (Protect Yourself When Eating Out)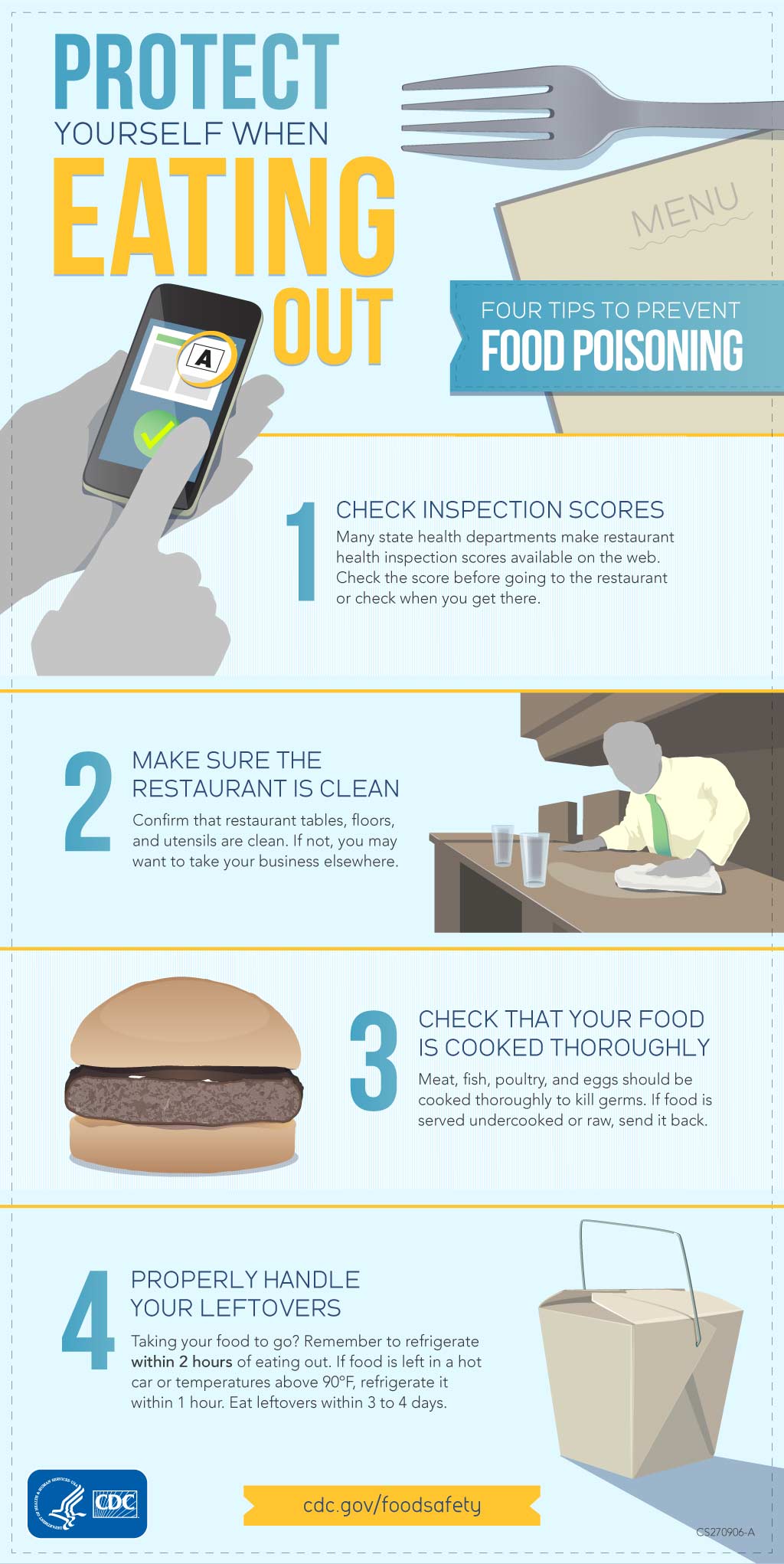 Credit: Centers for Disease Control and Prevention