Did you know that a loss of power from winter storms (with snow, ice, high winds, and freezing rain) can compromise the safety of refrigerated food?
Knowing how to determine if food is safe and how to keep food safe after a power loss will help reduce the risk of foodborne illness.
Food Safety Tips When Power Goes Out
General food safety guidelines to follow if the power goes out:

Food Safety Training - SALE 10% OFF
Learn about foodborne pathogens, cross contamination, cold and hot food safety, and best practices to prevent foodborne illness.
Food Manager ANSI Certification: $99.00 - Valid in all States
Food Handler Training: Only $7.00!
10% OFF: Enter Promo Code "train10off" at Checkout
Keep the refrigerator and freezer doors closed as much as possible. A refrigerator will keep food cold for about 4hours if the door is kept closed. A full freezer will hold its temperature for about 48 hours (24 hours if half-full).
Place meat and poultry to one side of the freezer or on a tray to prevent cross contamination of thawing juices.
Use dry or block ice to keep the refrigerator as cold as possible during an extended power outage. Fifty pounds of dry ice should keep a fully-stocked 18-cubic-feet freezer cold for two days.
Do not heat your home with a gas range or oven. Using a gas range or oven for heating can cause a buildup of carbon monoxide inside your home, increasing the risk of carbon monoxide poisoning.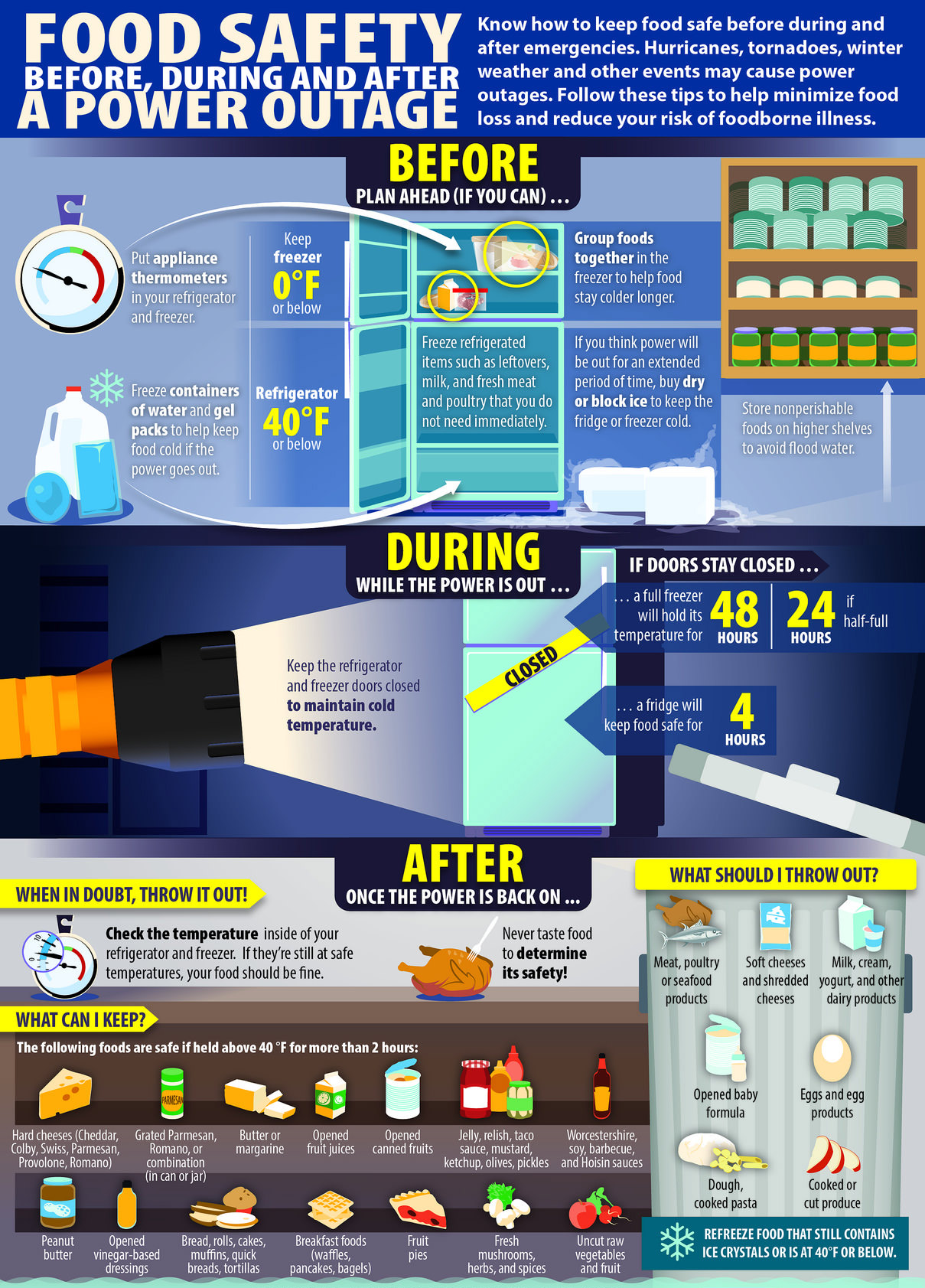 Credit: Foodsafety.gov
Food Storage During an Emergency – What Do I Need?
One or more coolers. Inexpensive styrofoam coolers can also do an excellent job.
Shelf-stable foods, such as canned goods and powdered or boxed milk. These can be eaten cold or heated on a propane cooker.
A food thermometer. With a thermometer, you can quickly check the internal temperatures of food for safe cooking.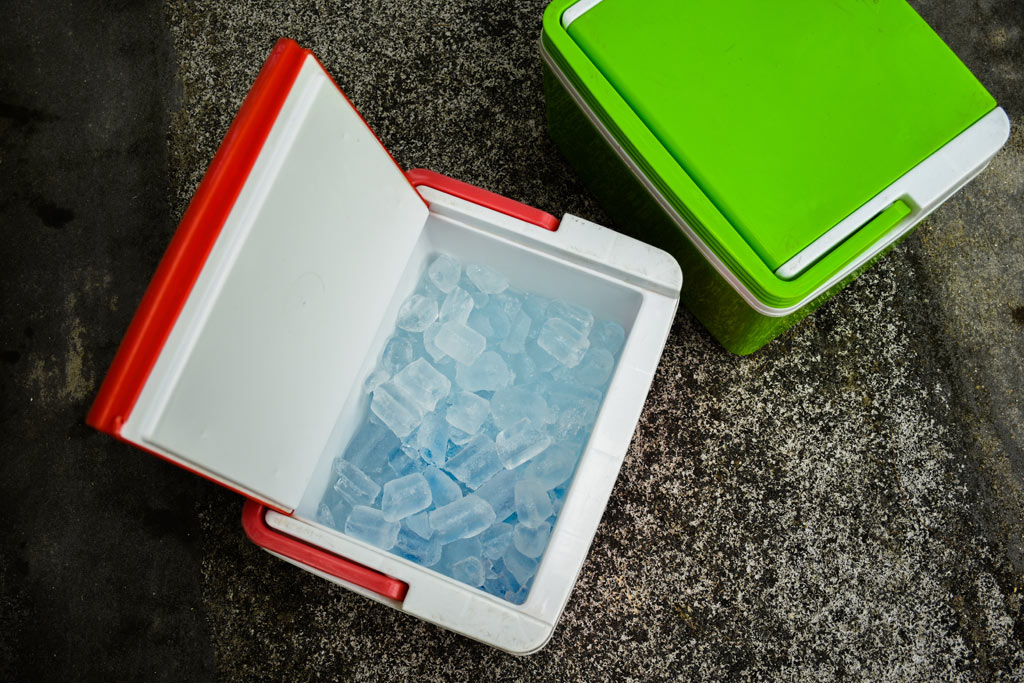 Image Source: Shutterstock
Food Safety for Power Outages
Power outages of any length can be frustrating and troublesome, and prolonged ones can also be dangerous. When your refrigerator goes out, special food safety measures must be taken.
Do not open the refrigerator or freezer. Tell your little ones not to open the door. An unopened refrigerator will keep foods cold enough for a couple of hours at least. A freezer that is half full will hold for up to 24 hours and a full freezer for 48 hours. Instead, eat shelf-stable foods.
Throw out perishable food (such as meat, fish, eggs, milk, and leftovers) in your refrigerator when the power has been off for 4 hours or more.
If it looks like the power outage will be prolonged beyond a day or so, prepare another cooler with ice for the items in your freezer.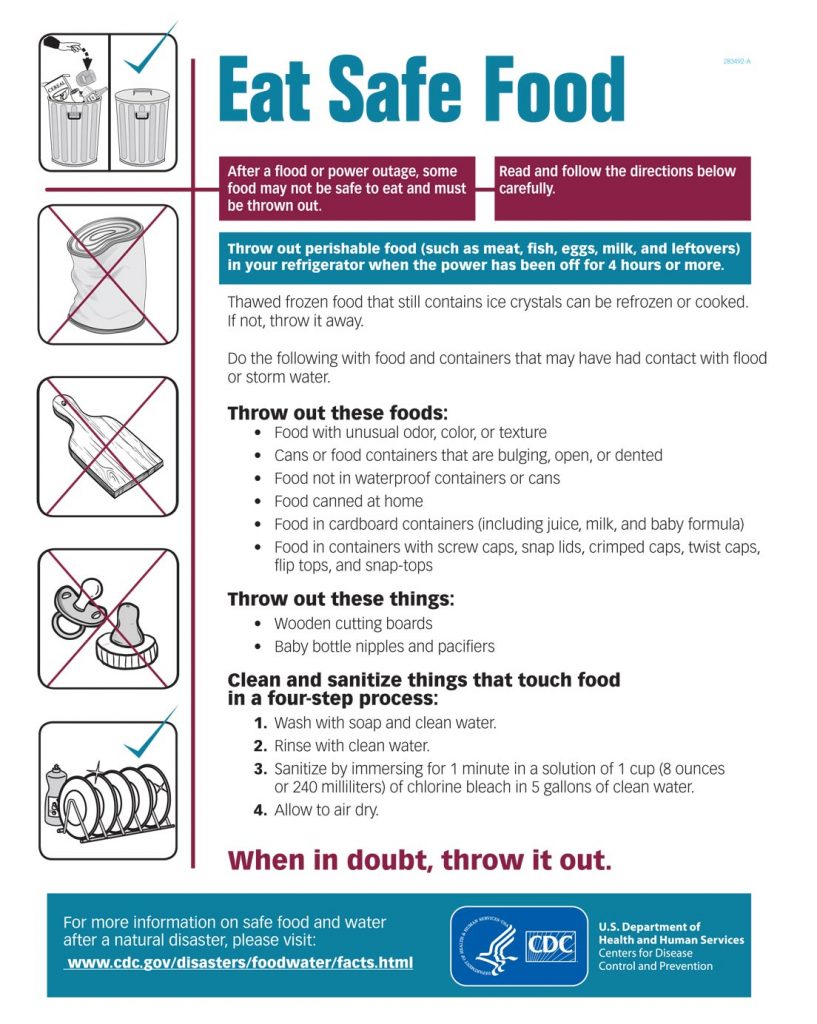 Credit: Centers for Disease Control and Prevention
Temperature Danger Zone & 2 Hour Rule
Bacteria multiply rapidly between 40°F and 140°F. To keep food out of this "Danger Zone," keep cold food cold and hot food hot. Keep food cold in the refrigerator, in coolers, or on the serving line on ice. Keep hot food in the oven, in heated chafing dishes, or in preheated steam tables, warming trays and/or slow cookers.

Never leave perishable foods in the "Danger Zone" over 2 hours; 1 hour in temperatures above 90°F.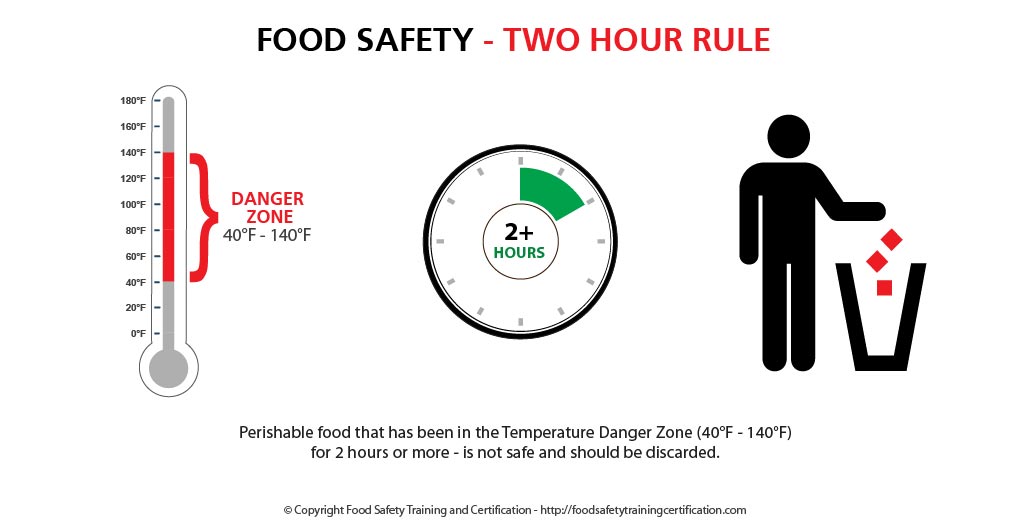 Prepare an Emergency Kit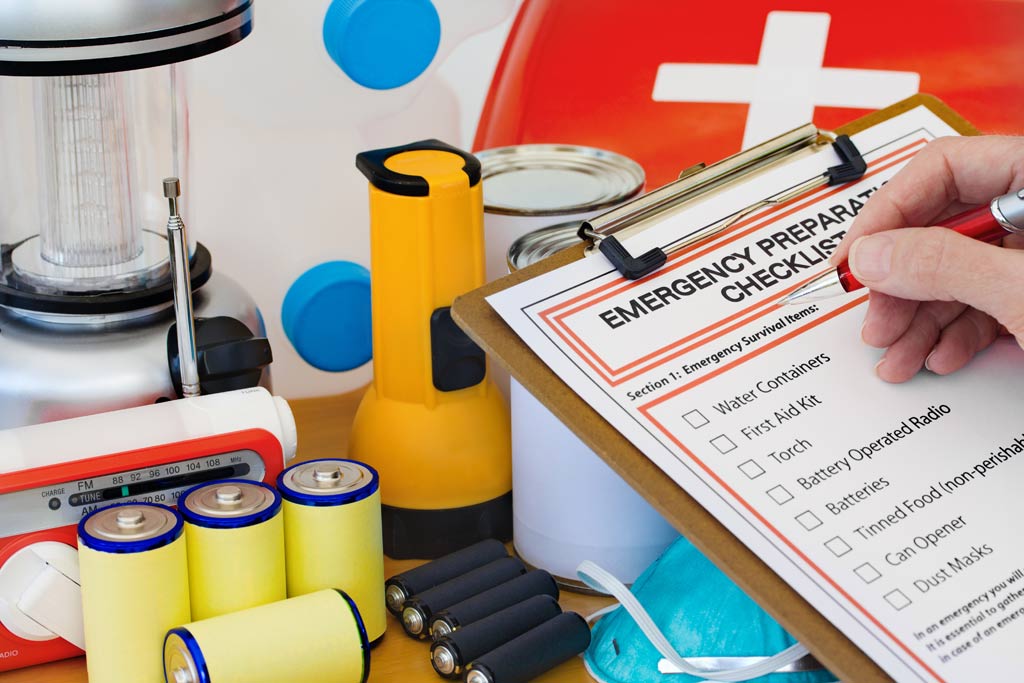 Image Source: Shutterstock
There are many things you can do to minimize the impact on your health before a weather emergency disaster strikes. Put together an emergency survival kit. Do it now and make sure you include the following items to last at least three days:
Canned and/or dried food – luncheon meat, ham, fish, fruits, vegetables, cereals, tea, coffee, powdered soup, salt, milk powder, sugar, sweets, biscuits, a can opener
Portable gas cooker or barbeque to cook on.
Eating equipment – utensils, knives, pots, cups, plates, bowls, matches, lighters
Bottled water – 3 pints per person per day, or 6 to 8 large plastic soft-drink bottles of water per person per day. 1 pint for washing food and cooking each meal, washing dishes and washing yourself.
Check and renew food and water every year, taking into account medical or dietary conditions in your family. If you have babies or children, make sure they have enough suitable food.
If you live in a flood-prone area, keep your food survival kit above the likely reach of flood water.
Disaster Food Safety Resources
Winter Weather Resources
Red Cross Food Safety Resources